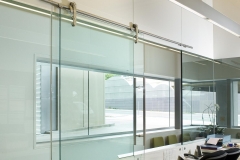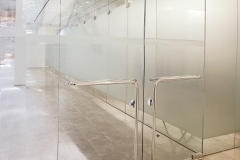 Glass door are commonly used in offices so as to provide a open concept in the design. Beside so, it is also commonly used in private projects for condos and landed property.
Some common glass door use would be for the main door in commercial property and in the balcony of residential units. Another common use of glass door would be for shower doors. The different type of usage in glass door would also mean different mechanism are used and thus affect the repair works for glass doors.
Common problems that requires repair work for glass door:
Glass Door Alignment Correction: this is usually the case when a door that is working fine starts to scratch against the floor or when you have problem trying to lock the door due to the alignment between the lock and the catchment area.
Floor Spring Replacement: For swing doors, most would utilize a floor spring to control the speed with which the door swings back to a close position. A damaged floor spring would result in the swing of the door being too fast, causing it to bang against the frame.
Glass Door Locks: As with all doors, most of them are equipped with a lock. Glass door locks differ from normal wooden door locks thou.
Broken / Shattered Glass: As per any glass, it is prone to get broken or shattered. We do replacement of individual glass panel in such cases.
Glass Door Hinges Repair and Replacement : Like any doors, glass door are attached to the walls or ceiling by means of hinges. With wear and tear, such parts may need repair, servicing or replacement over time.
Glass Door Roller System: for sliding glass door, just like swing glass door, they are prone to wear and tear over time and may need repair, servicing or replacement.
For more information on our door repair, you can call us at: 6280 4615