Door Hinges
The main issues most doors will have is related to the hinges. As mentioned above, a fire rated door is needed for the main door. As such, the weight of the main door is much heavier than other doors such as your room door. Therefore it is easier for the main door hinge to get damaged. Most main doors are supported by 3 - 4 door hinges of approx. 4 inches in length long. Allowing it to support 4 screws minimum. (see picture below)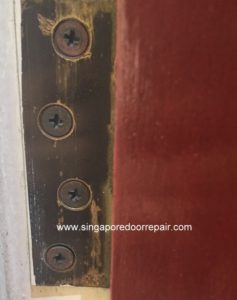 Maintenance measure for door hinges:

For preventive measure, it is always good to oil the hinge of the main door yearly. Not only does this helps in maintaining a smooth closing action, it also prevents the screw from rusting. A rusty screw that breaks within the wood will cause complication to the repair work. As such oiling is important as a preventive measure. There is no need to buy a specialise oil in your local hardware store. Just simply use cooking oil and a brush to give the hinges a thin layer of coat would suffice. For more information on door hinges replacement, you can

contact us

.

The main door of your home is much more important than you can imagine. It protects your home and acts as a shield for the privacy of your home. Unlike room doors, the main door is also fire rated ie: it takes time for a fire to burn into your home or spread out of it so as to minimise the damages in the event of a fire. Thus it is heavier and costlier. As such the main supporting equipment: the door hinges, plays a crucial part in the daily usage of your door.