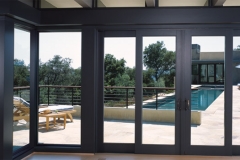 We provide repair and replacement service for bifold door as well as repair for patio or balcony folding doors and sliding doors. The repair work often involves either the alignment of the door, the replacement of mechanism such as roller and locks.
Folding and bifold door as well as sliding door are very space saving as they do not require much width to open the door fully. However, instead of hinges, such door relies on other mechanism such as rollers. The tendency for such mechanism to be damaged is quite common. The repair or replacement of such door roller can differ in difficulty as there are many different designs for such door. In some cases, the door cannot be repaired at all as the manufacturer did not account repair into their designs.
Another common issue is the alignment and lock for such door. This 2 issue can be inter related and only a check on the ground can determine the problem. Again for the locks on such door, the measurement has to be exact as a difference in measurement would affect the alignment of the lock on the door and that of the portion attached to the wall causing it to not lock smoothly.
For more information on our sliding and folding door repair, do give us a call at 6280 4615