Where a door frame is concern, the skirting is often forgotten about. The skirting of a door frame is mainly there for cosmetic reason and is more often than not found in condos and landed properties door frame.
The main reason for skirtings that require replacement is usually either wear and tear or water damaged, especially so for door frames that are located near the toilet.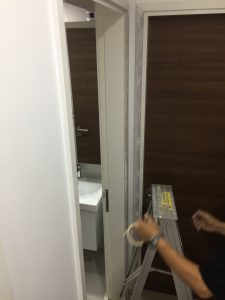 As seen in the photo, the skirting of the door was damaged by water over time. The frame was still fine as such a replacement just the skirting is required.
The example show is a skirting that is painted white with the outer most skirting painting already done and the inner skirting only with the base layer pending the paint work to be done. There are some skirting that is covered with laminate instead of paint.
The replacement of the skirting involves the removal of the old one, cutting to size and installation of the new skirting and in cases where the door height is taller, we would need to adjoin a small piece of skirting on the bottom to make up the full length.
The work involve in the replacement or repair of a skirting is usually less than that of a full replacement or repair of the door frame. The amount of time needed for the replacement would usually range between half a day to one day depending on the number of skirtings to be replaced.
In some the frame might need to be replaced too as the water has caused the door frame to rot. We could only advise accordingly to the situation upon a on site check.
For more information you can give us a call at 6280 4615.