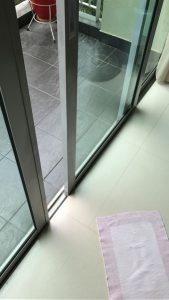 Sliding doors as the name implies slides in order for you to open the door. For a door to slide, it is common to use a roller system. There is 2 common sliding door system which can be differentiate base on where the roller is placed. The roller can be placed on the top of the sliding door or what we call a top hung sliding door or it can be at the bottom or what we call a bottom roller system.
Rollers just like car tyres are subjected to wear and tear when used and needs to be changed over time. Whil frequent maintenance of the roller does help, it is inevitable that the bearing would get worn out.
Steps to replacing the Sliding Door roller system:
For both the top hung system and bottom roller system, replacement would usually require the removal of the entire door. After which, a suitable replacement have to been used. Doors unlike most other industries do not have a standard market part. Each door manufacturer will be using their own roller system as such there is a possibility that the roller currently used cannot be found in the market. A minor difference in size can affect the alignment of the entire door thus affecting the smoothness of the sliding door. Just like a bicycle if one is to change the wheels to a completely different size than the original than the riding experience will change.
After replacing the roller, the door will than be fitted back to the track and the final alignment will be done. It is important to do proper alignment to ensure proper closure of the door. Improper alignment will shorten the span of the rollers and may cause damage to your door or even worst cause a person to get stuck behind close door. As such do ensure the sliding door repair technician at your home completes the work by checking both the smoothness as well as the alignment of your door.
Maintenance of Sliding Door Roller
As a home owner, we can reduce the wear and tear of the sliding door by frequently oiling the bearing of the door. You can use greasing agent such as WD 40 which can be purchase of the shelf. However, do not over use the grease as too much would cause the grease to build up and harden thus causing the bearing of the rollers to get jammed.