The pocket sliding door is a door that is frequently found in condominiums. For aesthetic reasons, most developer would use such sliding door system. The main difference from other sliding door is that the system itself is concealled.
Depending on the material used for the door, the way it is concealled can differ. In most cases where the door is made of glass, the sliding system is hidden by a ceiling. For such system, there are 3 possible issue that can occur.
The 3 possible issue are the rollers, the track support or the guiding piece below.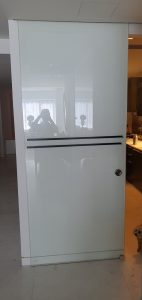 The roller is the most common issue as with most sliding door since it is the part that is in used when the door slides. As such, wear and tear would commonly occur after a few years of use. The track support can also loosen after a few years of time especially if it is connected to a false ceiling.
The guiding piece on the ground is the rarest of the 3 problems and it's purpose is to just prevent the door from swinging when in use. However, the replacement of this part is the hardest as it would usually require the removal of the entire door.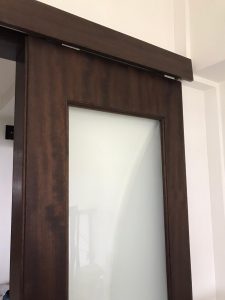 For wooden pocketed sliding door, the track would be hidden by a wooden panel in a most cases but occasionally we do encounter those hidden into a partition. As per above should the roller need repair/adjustment, which is common as the nut above gets loose or a replacement of the roller, we would have to dismantle the panel that is blocking our tools from being used.
The reason why the sliding system is only on the top is because it is used only within the house where we would be walking barefooted. As such a bottom track system would obstract our walkway.
For more information about our sliding door repair services, you can give us a call at: 6280 4615