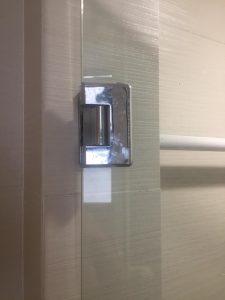 Glass door works just like any other doors whereby it has to be secured by a mechanism to a wall. For a sliding glass door, it is usually by clamp which are attached to a roller while for swing glass door the mechanism that is commonly used are called glass door hinges.
As with any mechanical parts, such glass door hinges are prone to wear and tear. The issue is a malfunctioned glass door hinge can bring with it certain amount of risk.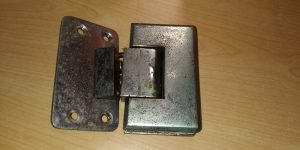 As shown in the image, there are springs within a glass door hinges which can rebound and thus hit the glass causing it to shatter.
Beside that such glass door hinges are commonly used for shower door and also the main door of a commercial unit where traffic is high. As such a damaged hinge can be dangerous.
We do replacement of damaged hinges for both commercial and residential unit as well as alignment of glass door (which happens when the hinges are loose causing the glass to sag down).
For such replacement, the main consideration is the hole that has been pre cut in the door. As shown in the image below, you will notice 2 hole right at the edge of the glass door .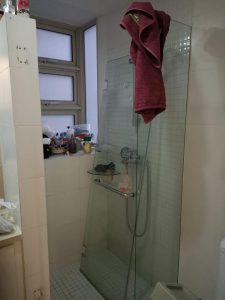 As the hole in the glass door cannot be altered, a hinge with correct measurement is needed to ensure that the glass is held securely to prevent any mishap from happening.
For most replacement, the work can be done within an hour to two, mainly depending on the alignment which has to be redone as both hinges are removed from the door.
A minimum of 2 technician is required to do the work for safety reason as we are dealing with glass which has a risk of shattering.
Upon replacement, the warranty period for the labour is 3 months. However, it is highly unlikely that we would be called back for the next couple of years for another glass door hinge replacement work as such hinges would not malfunction that frequently.
For more information on glass door hinges repair or replacement do give us a call at 6280 4615. Beside glass door hinges, we specialise in various door repair services and are available islandwide in Singapore.